Process of Organizing a Union
Step 1
Assemble an organizing committee.
Step 2
Identify the top workplace issues and concerns to be addressed.
Step 3
Sign a secure, confidential union authorization that authorizes UAPD to represent us for collective bargaining for a new contract. Only UAPD and the National Labor Relations Board (NLRB) will know that you signed.
Step 4
File with NLRB requesting a union election.
Step 5
Conduct an election on whether to unionize with UAPD (vote YES or NO). The election will be conducted either via mail-in ballot or in person. NLRB will let us know the date and modality of the election. If the election is held via mail. A ballot will be mailed to you at the address on file with our employer.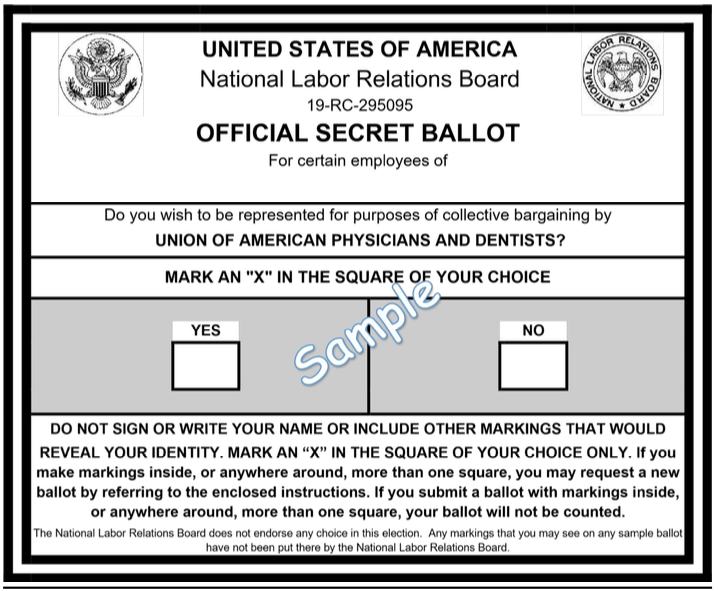 NOTE: The NLRB ballot is completely anonymous, secure, and confidential. Your ballot will be assigned a number that de-identifies you–your name will NOT be on the ballot!
Step 6
Get out the vote! To win the election. We must secure 50% of the vote plus 1.
Example: Out of 800 votes—we must get 401 "yes" votes.
Step 7
Upon election victory, UAPD will begin collective bargaining on our behalf with our employer for a fair and just contract.
In The News
Wall Street Journal: "Medical Residents Unionize Over Pay, Working Conditions: Doctors-in-training say they want to advocate for themselves and patients": https://www.wsj.com/articles/medical-residents-unionize-over-pay-working-conditions-11673832067

Helpful Links
UAPD: www.uapd.com
National Labor Relations Board: www.nlrb.org
The Five Basic Steps to Organizing a Union: https://www.ueunion.org/org_steps.html